Congratulations on your purchase of the Cellferno M Series LTE Outdoor CPE. With this LTE (Long Term Evolution) CPE (which is also known as 4G CPE), you can share high-speed mobile broadband connectivity in a wide range of computing environments. Before you begin using the LTE
outdoor CPE, read this document to familiarize yourself with the device.
Features
Embedded high gain directional antenna
IP66 protection against dust and water
Easy configuration based on Web Interface
Provide 5 – 10dB more coverage gain compared to indoor CPE
Support Passive Power over Ethernet.
Easy installation and use
Package Contents
The following items come with your package. If any of them is damaged or missing, please contact your retailer.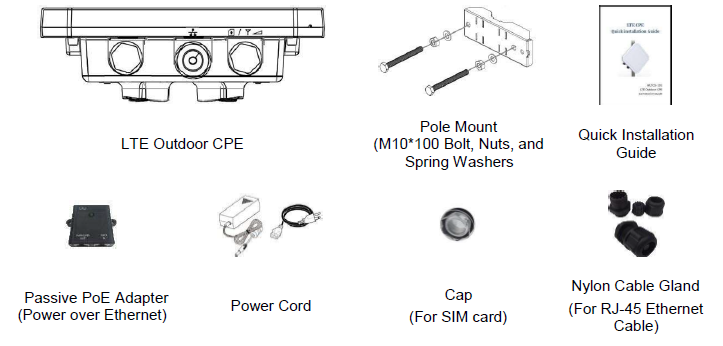 Note: The pictures are for reference only, actual items may slightly differ.