For a better Data performance, good tower signal condition is required. In this article, we will know
How to find Tower signal status in Cellferno.
The KPI's to measure tower signal performance.
How to improve KPI performance.
Finding Tower signal Status in Cellferno.
Please login to Cellferno. For details please check the article-

How do I Login to My Cellferno M Series CPE

?
Go to Status-> Mobile Information. You will see below screen.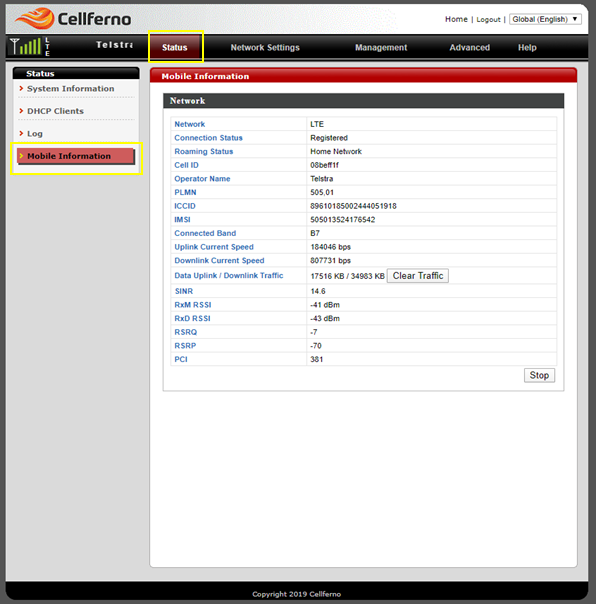 KPI's to measure tower signal performance.
There are two basic KPIs we normally look for RSRP which indicates signal strength and SINR which measures the signal quality.
RSRP (Reference Signal Received Power)- It represents the power of the signal. Closer we are from the tower will receive stronger RSRP. Below is the performance table for RSRP.

SINR (Signal to Interference & Noise ratio)- It represents the quality of the signal. As you can see from the name, it is a ratio of main tower signal to interference + noises. For further details about SINR please check our article How to find a tower with better 4G Signal quality
So, stronger the main tower signal strength is compared to interference and noise, better is the quality. Below is the performance table for SINR.

We also can work on the Frequency band. Carriers use more than one band for 4G signal. For example, Telstra uses Band-7/Band-3/Band-28 for 4G. So we have the option to check the performance of each band and choose the best one.
The KPI's are highlighted below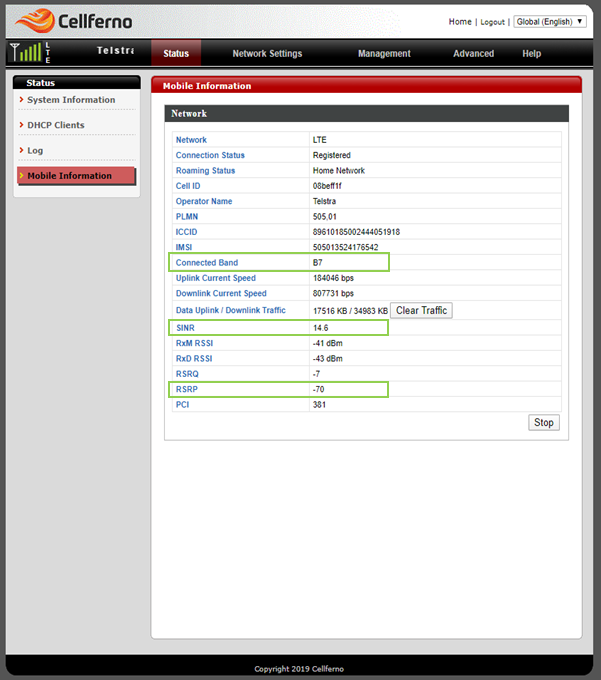 How to improve KPI performance.
To improve the RSRP or SINR you need to face the Cellferno in the right direction where the tower is. There could be more than one tower and not all tower performs the same.
So point the Cellferno towards each tower and check the RSRP & SINR also run a quick speed test then compare the results to find the best direction.
If you are not aware of the tower locations, please follow the article How to locate nearest towers around you.
To select a specific band go to Network settings-> Mobile Internet -> Band. Then select one band at a time and test the performance.